Norwex Window Cloth Review-Good enough to replace Windex?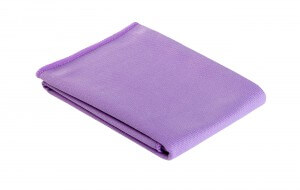 According to norwex.biz, the "Window Cloth gets windows, mirrors, shower doors, glass tables, crystal, granite countertops, jewelry, brushed and stainless steel, chrome, knickknacks, patio tables and shiny surfaces sparkling clean with only water." I decided to put that to the test. A skeptic like me would think, "sure it cleans, but is it as good as I normally clean things?" This is what I found.
The Idea
This cloth, like the EnviroCloth, is a microfiber cloth. The feel of it is much smoother than the EnviroCloth. This is understandable since it is designed to shine surfaces. You can use it a few different ways to get various jobs done. For getting fingerprints off of small surfaces, you can do it with a dry window cloth or slightly wet surface. If you are cleaning an extremely dirty window, it's better to first go over it with an EnviroCloth and then the window cloth. The claim is that both of these examples will be left streak free. This seems like a solid idea to me, but does it work?
Small Surfaces
In looking for a surface to test this cloth on, I thought glass surfaces would work best. You can see through any issues, and streaks appear the most easily there. For my small surface test of the Window cloth, I chose an old pair of glasses. (keep in mind, these aren't meant for anti-glare surfaces).
On this test, I used a dry window cloth. I didn't prep the surface or anything. Here is the before picture: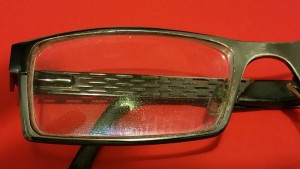 Notice the streaks where other cloths have been. (click for bigger picture). Now this is after. Again, this cloth isn't meant for anti-glare surfaces.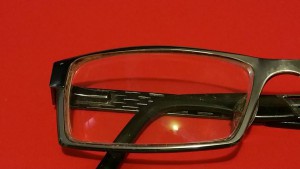 Those streaks are gone, the frame even looks better. I'd say it works pretty well. But how does it do against large surfaces?
The Large Window
I figured that since it is called a "Window cloth," a great place to test it is on a big window! I did a couple so that you can see the result. The first is my front door window. We never use our front door. In fact, when we first moved in, we lowered the upper window down so that we can have air come through the screen up top. It's one of those glass/screen doors that you can convert. Well, we never brought it back up, so it hadn't been cleaned in years (we moved in in 2009). I pulled it up for this test and this is what I saw: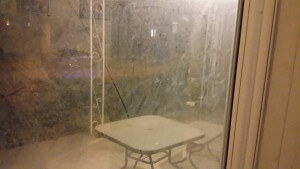 I thought, "there's no way a cloth could clean this." Windex was on standby. I wet an EnviroCloth, wiped the grime off the door with that, and then applied a dry window cloth to the window. I was pretty amazed! Using just water, this is the result: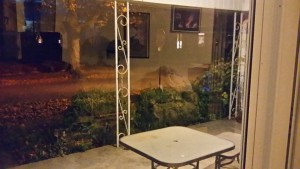 Best of all, the whole job took me maybe 2 minutes (including wetting the cloth). Of course, once I got that clean, I saw another surface outside that I could test. The table  you see in the picture above has been outside for years. It has not always been under a roof, but spent a bit of its time outside in the elements. It is extremely dusty…it's actually mostly transparent glass. There's a goof on my part on the video (I didn't see one spot too clearly, but it was easily remedied later).
Overall, I was satisfied with the job it did. How I could have done that better? I could have not tired to make the video last less than 40 seconds!
Overall Thoughts
I then went on to use it on kitchen counters, microwave doors, televisions, end tables, cell phone screens, and whatever I came across. Each time, it did its job well. I recommend it for anyone! Oh, but this post is supposed to let you know if the window cloth is good enough to replace Windex. Honestly, I didn't think of Windex even once while making this review, if that tells you anything. I gotta say, it's refreshing to do the same job without paper towels or that ammonia smell! Get one today!
Your input
What are your experiences with the Window Cloth? What other Norwex items would you like to see reviewed? Please leave comments below.
Like Us on Facebook: Facebook.com/raphandcathynorwex